Har folket fortsatt forventninger om greie marginer?
Bruttomarginene er 98-99%.
EBIT marginene kommer an på omsetningen, kostnadene regner man med vil ligge på ca 15m.
Vil tro omsetningen kommer inn rundt Pareto sine estimater på 30MNOK og en EBIT på 13-14MNOK.
Valutamotvind i Q2, og selvfølgelig vanskelig å vite hvordan Covid slår ut.
Jeg tror også 30 mill omsetning og rundt 15 ebit er best guess, men jeg tror det finnes en viss sannsynlighet for et «best case» opp mot 50-60 mill omsetning. Feks om dette med oppskalering av SAN-kapasitet har blitt undervurdert av oss aksjonærer i forhold til behovet. Og selvfølgelig om etterspørselen i diagnostikkmarkedet er lik eller større enn ved forrige kvartal. Azt må jo begynne å nærme seg 350 til 400 kunder totalt i hele verden. Det er mange variabler.
Glem ikke denne (selv om effekten ikke kommer for fullt i 2Q);
"During Q2, AZ announced the launch of the new version of its SAN HQ enzyme. The new product opens up the market beyond viral vector production to also target recombinant proteins, e.g. monoclonal antibodies; a market that today is the fastest-growing, significantly outgrowing the market for small molecules. " (hentet fra Pareto-analysen 27.7)
Uansett resultat for 2Q21 så er det utviklingen på lengre sikt vi må ha fokus på.
"The product will be commercially available from late Q3 2021"
Det er sant som du sier. Vi må ha fokus på lengre sikt. Det er ikke tilfeldig at produksjonslinjene oppgraderes for høyere kapasitet. Det er ikke tilfeldig at det ansettes ressurser i FoU og produksjon, samt en "business analyst".
Ja, vi "vet" vel at det kommer, spørsmålet er bare når


Er vel også minst 4 større selskaper som har hatt en cGMP audit det siste året ca, som man ikke må glemme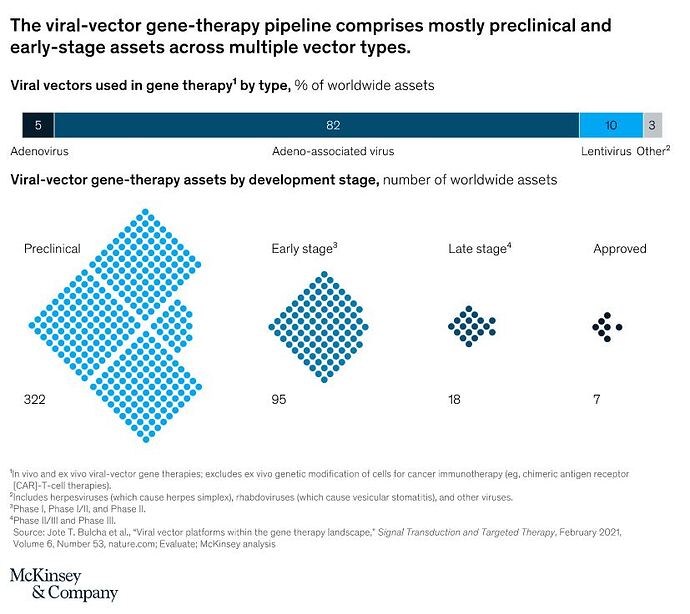 Er det ikke ganske heftig og en tillitserklæring til AZT's produktert at de har 25% eller flere av disse kundene i sin portefølje. Er det fortsatt ikke en god risk/reward her, til tross for at selskapet er verdsatt til 5 milliarder?
Dette var resultater en god del under forventet i Q2!
Ja, det var det.
Preget av valuta og Ebitda blir en del lavere preget av dette:
"EBITDA is also impacted
by NOK 4.2 million in accrued employer's
national insurance contribution after "2018
option rights" was earned on 31.05.2021. This
accrual will fluctuate moving forward as the
share price moves."
Men, samtidig guider de 120M i omsetning for 2021, som er Paretos konsensus med kursmål 133 NOK.
Annet spennende fra rapporten:
AZT is developing an
opportunity with a large international life science
company for potential integration of SAN HQ 2.0
into their routine manufacturing processes for all
recombinant protein production.
Two of our customers conducted audits of the
AZT facilities in Tromsø during Q2. The first was
our largest customer (Thermo Fisher?) and the other was a
prominent UK based cell and gene therapy
company. The audits are part of a mandatory
qualification process customers perform to
qualify AZT as a critical component supplier. In
both cases, AZT successfully retained its critical
supplier status.
Blitt vant med at denne går + -20% på rapport dag så ikke noe nytt

Fra Pareto:
Sales in Q2 was NOK 21,4m, a decline of 36% (26% organically-PAS est) as ArcticZymes (AZ) came up
against tough comps, with Q2 2020 posting very strong sales as a result of Covid-19 related orders. Sales
in Q2 21 were significantly below our estimates, but as we have emphasised before, quarterly sales will
fluctuate and be very hard to predict, and investors have to take the long view when assessing AZ´s
performance. The Covid-19 pandemic has provided some disturbance in the different segments, but
nothing that changes our long term view of AZ. AZ provided a 2021 outlook and now expect to deliver NOK
120m in sales in 2021, which happens to be precisely in line with PAS estimates.
Some comments
Therapeutics experienced a slowdown in quarterly sales of the SAN product line due to several of
the largest customers prioritising custom manufacturing of third party Coronavirus vaccines over
other development and manufacturing products. This means that gene therapy and vaccine projects
using SAN products has temporarily been deprioritised.
The Molecular research & Diagnostics segment was also relatively soft as customers made large bulk
orders in Q1 and also overstocked with COD UNG supplies during Q1.
Covi-19 related sales was NOK 4,5m with the majority being recurrent sales from existing customers.
The gross margin came in at 101%
Noen som har link til webcast?
Sales as expected. Tenker ikke selge mine for under 100 NOK 2021.

Dormancy. Hvis du åpner meldingen fra Tekbot noen poster opp så står det at du å sende mail til IR for å få tilsendt invitasjon til teamsmøte.
Litt skuffende kvartal rent tallmessig. Om man leser rapporten så er fremtidsutsiktene intakt, om ikke bedre enn tidligere.
Er man langsiktig inne i denne aksjen, så er dette en kjøpsanledning.
Liker spesielt godt denne frå rapporten * For example, AZT is developing an
opportunity with a large international life science
company for potential integration of SAN HQ 2.0
into their routine manufacturing processes for all
recombinant protein production.
Moving forward, AZT will extend innovation
activities beyond SAN products

As part of future
investments, the Company will integrate into its
organic and inorganic growth plan innovative
enzymes that support DNA/RNA therapeutics,
gene editing technologies, and other cell and
gene therapeutic applications.
Det er bra. Jeg vet bare ikke hvor bra det er, men når det nevnes som et eget punkt i rapporten må det ha en viss betydning om de lander en slik avtale. Høres jo ut som om det kan være snakk om litt volum.