60% på en uke

Det ble takk for denne gang på meg i dag!!
Dette interessante danske selskapet fortjener noe mer informasjon enn det som kommer fram i første innlegget.
Selskapet lager low-end selvjusterende høreapparater og sikter mot markedet mellom kommersielle lydforsterkere og høreapparater som som blir tilpasset av eksperter. Audientes sikter seg inn mot folk som ikke har råd til spesialist-tilpassede high-end høreapparater.
Selskapet starter kommersielt salg i løpet av en måneds tid i India der de hittil har annonsert 2 salgspartnere. I tillegg vil det vil produktene selges online.
Audientes sikter mot FDA godkjenning og salg off the counter (OTC) i USA i løpet av 2022. Dette vil i tillegg til å åpne vei for salg i USA også åpne opp for flere markeder i Østen.
Marketcap pr nå er ca 150 mil DKR og jeg mener at potensialet til selskapet er stort i løpet av et par år.
NB Det er lav omsetning i selskapet
Under er en god video som beskriver selskapet godt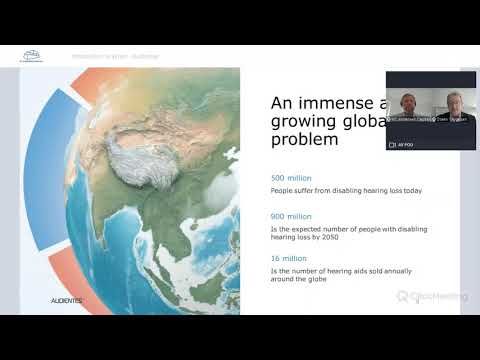 Disclaimer: Eier aksjer selv i selskapet
Har du satt deg inn i konkurransen og gjort deg opp meninger om hvem som kommer best ut når Hearing Aid Act trer i kraft? Har selv vert inne i InnerHearing (INND på otc) siden nyttår.
Jeg har også følget med på (men heldigvis ikke kjøpt) Eargo (EAR) som falt ned ca -70% igår.
Bose kom også nettopp ut med sine hearing aids. Det ser ut til at konkurransen tilspisser seg…
Skal ikke påstå at jeg har full oversikt over konkurransen i denne industrien. men ut i fra det selskapet selv skriver er målsettingen å fylle gapet mellom lydforsterkere som f.eks Bose og high-end høreapparater som krever at man går til en ekspert for personlig tilpassing.
Når Hearing aid Act trer i kraft i US vil dette åpne et stort marked som mange vil prøve å få en bit av.
I første omgang prøver selskapet seg på det indiske markedet som i seg selv er gigantisk for et lite selskap og jeg har ingen ingen illusjon om at selskapet skal ta mye av det nye OTC-markedet i US. Etter min mening er det viktigste en FDA godkjenning som kan brukes som salgsargument i de asiatiske markedene. Om de skulle få en bit av markedet i US tror jeg det blir slukt forholdsvis fort.
Danmark har en del sterke selskaper innenfor denne industrien og Audientes er et lite selskap som et min mening har et stort potensiale på et par års sikt
Audientes opens up for online pre-ordering in India and enters into cooperation agreement with eShopBox in India
30.9.2021 10:01:18 CEST | Audientes A/S
Share
Audientes announces today that it is now open for pre-ordering online in India and that it has entered into a collaboration with ecommerce fulfilment provider, eShopBox for the sale and fulfilment of Audientes' self-fitting hearing aids on ecommerce channels in India, including Audientes.in and later Amazon.in and FlipKart.
Consumers in India and elsewhere in the world can now pre-order Audientes' hearing aid product, Ven™ for delivery in India. Audientes has entered into a partnership with eShopBox. This partnership makes it easy for Audientes to scale sales from multiple etail-platforms in India and ensures fast delivery to Indian consumers through their nationwide fulfillment centers.
eShopBox - a recognized partner helping brands scale in the Indian market
"In accordance with our ecommerce strategy and roll-out plan in India, we are excited to be partnering with eShopBox, an established organization with over seven years of expertise in ecommerce in India. A recognized ecommerce enabler, eShopBox has helped countless known brands scale in the Indian market, and we are very much looking forward to collaborating with them," says Steen Thygesen, CEO, Audientes A/S.
The Indian market is the world's second largest ecommerce market with an ecommerce value of USD 84 billion and approximately 329 million active ecommerce buyers in 2021. The market is under rapid expansion with a yearly growth rate of 25-30% and an exploding market growth in e-healthcare, estimated at USD 2.7 billion in 2023, and e-pharmacy, estimated at USD 16 billiion in 2023.
A perfect candidate for online sales
Mr. Gautan Raheja, Chief Marketing Officer, eShopBox comments; "Ecommerce in India has seen rapid development in recent years, a trend that is expected to continue as the number of people shopping online grows. This year alone, there were over 300 million ecommerce buyers, which is massive when you consider that there is only 50% internet penetration here. We are delighted to be part of Audientes' journey to roll out Ven to the Indian ecommerce market."
Supporting Audientes ecommerce strategy
The agreement with eShopBox and the launch of Audientes' online ecommerce platform is an important step in the company's global ecommerce strategy, paving the way for future launches of online ecommerce platforms in additional countries, including the US and further markets in Asia. Audientes' will initially only sell and ship its products and accessories to customers with delivery address in India, but can bill buyers worldwide. In the future, additional countries will be added gradually.
Robust platform for global ecommerce now launched
Moreover, Audientes has now implemented a versatile and robust global ecommerce platform with an emphasis on the consumer experience and modeled on a globally recognized order flow. The platform has integrated multi-language and multi-currency with amalgamation to more than 100 payment providers around the world. It is also readied for easy integration to multiple fulfilment centers in varying countries and comes unified to global courier services for international shipping. From a consumer standpoint, it is combined with customer care for a coherent customer experience with a focus on providing the best possible support and service to customers. For Audientes, this means easy "copy & drop" roll out country-by-country as we enter new locales in the coming years.