http://lipidor.se/
Hyggelig aksje. Snart fase 3 resultater

Nok en dag med ny ath

ATH daglig ser det ut til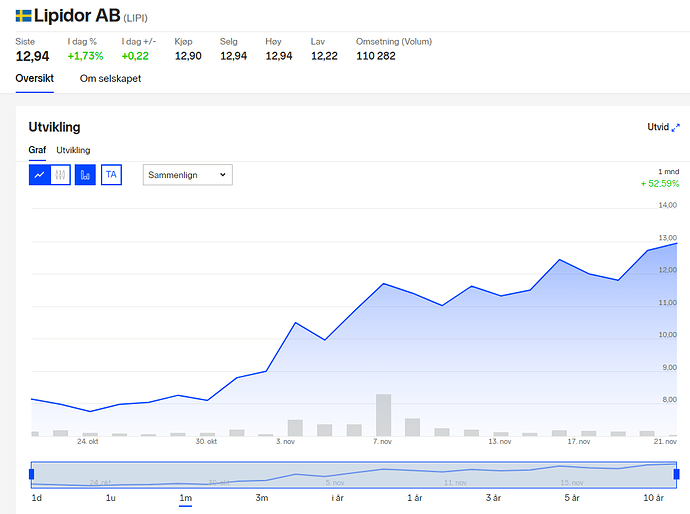 Statement from Lipidor's CEO
Lipidor is experiencing considerable interest from both investors and the pharma industry, and in many meetings during the quarter, I have continually received confirmation that Lipidor is on the right track in our ambition to create patient benefit and shareholder value.
One important area is the ongoing phase III study of our spray-based psoriasis drug where we have reformulated a proven drug substance.
The progress of the study has gone according to plan and after the end of the quarter we were able to report that the last patient had completed treatment. For Lipidor as a company, it is an important milestone to have taken a drug through all phases and I am both proud and grateful for the effort that our team of employees, consultants and partners have carried out. Of course, we all keenly await the results we expect to present in December, as previously communicated.
Work on our other product portfolio is also moving forward and we have detailed the clinical strategies for our development program during the quarter. An important milestone was our meeting with the Swedish Medical Products Agency (MPA) in September. The MPA is positive about the possibility of taking AKP02 directly to a phase III study if the results of the ongoing AKP01 study are positive. We have also continued a strategic review of upcoming patent expirations of best-selling dermatology products where we believe that Lipidor could play a role, either with improved products or by supporting the market leader with product development.
Our subsidiary Emollivet completed the first test production of our animal skincare series at the end of September. With this, operational activities of the company began and we have a number of parties who are currently evaluating the products.
At the end of the third quarter, Lipidor completed a successful capitalization with subsequent listing. The capital gives us the opportunity to deliver at a continued high rate and we look forward to another intensive period of study reporting and business development.
Stockholm, 21 November 2019
Ola Holmlund, CEO
Ny ath daglig omtrent. Fase 3 resulteter i desember

Nok en dag med ny ath, så jeg tar gevinst idag. Blir spennende å se på fase-3 resultatene