Ikke glem at vi fikk 8 VA hospitals på en desember kveld i 2018
I min oversikt har jeg 14 nye klinikker registrert i Q3, totalt 136. Var det 2 til det kvartalet ?
En side ved den nyligste kursutviklingen i PHO er at det sjelden har vært noe positivt for den aksjen å komme ukonsolidert inn på høye kurser før en kvartalsrapport, da har det vært sell on news så det kokte etter som resultat.
Nå "vet" vi at på Q4 kommer det til å være et enormt overskudd for PHO pga up front. Ligger an til et nytt herlig legg om ikke resten av tallene er forferdelig under forventning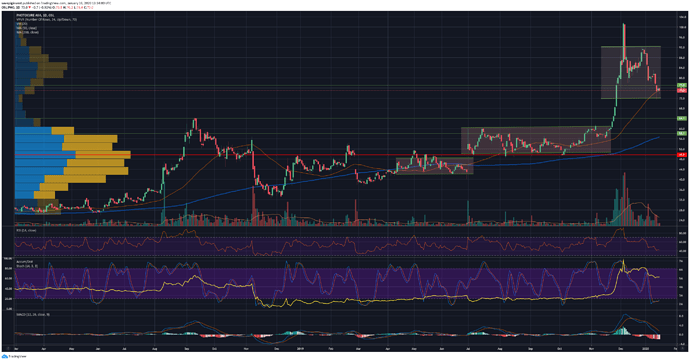 Eg lurer på om vi allrede no ser at volumet skrumper inn, og at den då muligens skal oppover igjen?
Jeg kommer ihvertfall til å se nøye på topp 50 fremover.

Market cap i skrivende stund er 1,65 mrd og den er ned 25% fra topp, er ikke avskrekkende overhodet
Det er vel mer sannsynlig at skrumpende volum vil ta oss ned, spesielt med tanke på brudd under 78 der det er omsatt marginalt med aksjer ned til 60

Joshua Meeks: Well I think number one, as surgeons, we should continue to do a great job. I mean to me, I would argue if you have the option to do blue light cystoscopy, you can see the carcinoma in situ better. All the data suggests that you potentially are doing a better TUR with blue light cystoscopy. So that surgical resection of CIS, we don't know what that contributes, but it certainly affects recurrence rates.
…"But I love the message of number one, be a good surgeon, take care of your patient, use blue light if that helps, do the best resection that you can do"… enda en grunn til å velge Cysview selv om denne legen virket å være noe skeptisk ift blålysets effekt
Hjelper at alle studier underbygger blc bruk.
Kan ikke huske det sikkert, tror ikke det😀
Ser det kommer opp Congresses & Events in 2019, men det er 2020
Dette er flott levert av Sia Dashemand.
So essentially, of the 18 thousand people that died last year from bladder cancer, 10 percent of them, or 1,800 patients could have been saved with this technology.
I tillegg sier programlederen at det også gjøres tester på andre krefttyper, deriblant svulster i hjernen og tykktarmskreft, spennende saker.
"Can this be used for other cancers? They are testing it on brain cancer patients. It's difficult to insert the agent into the brain as easily as it is to do for the bladder. But there are trials going on now for brain and colon cancer as well."
Det foregår tester på tykktarmskreft og kreft i hjernen?
Dette var fullstendig nytt for meg.
Dette bør jo være obligatorisk spørsmål til Schneider ved Q4.

Tipper dette er relatert til Kristian Bergs forskning men er ikke sikker

Photocure har selvsagt ikke sånne trails gående. Annen forskning i samme gate bare.
Flott reklame btw. Pasienter skjønner snart at det er alternativer til WLC.